Welcome to BISHOP SHOP. BISHOP SHOP is an online shop that develops and sells original goods that combine art and craftsmanship, including art slip mats.
The details of our commitment to products and the development story are described below, so we would greatly appreciate if you could look and see this movement that fuses art and music.
BISHOP SHOP will continue to develop items that will enrich your DJ life, so please check us out.
Taro Fujiwara
<About the Art Slipmats>
Introducing the "Art Slipmats", slipmats with a pair of designs, and BISHOP SHOP's representative original product. 
Slipmats are familiar goods that are indispensable for DJs playing records, but I was wondering about one thing.
Despite the fact that DJs always use two turntables at the same time when playing records, commercially available slipmats only have a single design.
I thought to myself, "since a set always comes with 2, isn't it possible to make one set combining 2 separate designs? "With this idea in mind, I first began developing the product in order to be able to present a more intriguing feel through slipmats, with the "2 for 1" design concept.
When I began thinking of this 2 for 1 design, the first thing that popped into my mind was "byobu" (Japanese folding screens).
Byobu is an art work that is often drawn in units of two as a set, but it is both an art and a practical "partition" tool.
I wondered if we could produce slipmats that not only are practical, but that can also be appreciated as an art similar to byobu, and we began the selection process of artists that could fit this theme, as well as the trial and error of producing the products.
As soon as we began making the trial products, we realized that there were several huge obstacles to reach the ideal level of quality.
An art slipmat cannot be endorsed unless it is created exactly as the artist desires.
It was quite difficult to match colors and tones like the color of the original picture, but finally with the cooperation of "Dr. Suzuki", a Japanese slipmat manufacturer, we were able to achieve our desired colors through our co-development, and able to provide the coloring and textures that the artists could be fully satisfied with.
"Dr.Suzuki" does not only have strong support from DJs with a reputation for their skills, such as DJ Shadow, D-Styles, and Cut Chemist, but is also officially used by "Serato", a Compumix's representative software.
It has a quality that boasts a stable comfort and outstanding smoothness that can be used safely by DJs of any play style.
Regarding the packaging for the mats, we developed a pure white record case that fits two slipmats and can also be used as an ornamental frame.
Since the folded size is the same as a normal 2-disc set LP, it is possible to put it in the record case with other records as it is. It may be good to take multiple mats and choose which ones to use according to the mood and atmosphere of the venue.
One of the attractions of the Art Slipmat is that you can enjoy various designs in various scenes, just as you would change your clothes depending on your mood.
And even if you're not a DJ, it's sure to be a great gift for your DJ friend, and if you're surrounded by awesome DJ goods, you'll feel better and play better as a result.
The Art Slipmats are currently scheduled to be developed in two ways: "Original Design" and "Classic Collection".
The original design is limited to a total of 120 (including 20 signed), and is sold as an art work with an edition number.
We also conduct overseas shipments, but please consult us as some products are limited in numbers.
Please fill in your name, e-mail address, product name, quantity, and address, and send them from the contact page.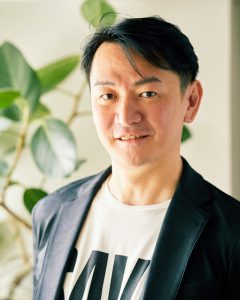 <Taro Fujiwara Profile>
BISHOP SHOP Representative 
After spending his 20s in New York and being wowed by art and music, he worked as a music producer after returning to Japan, and established BISHOP MUSIC, a music production company in 2011.
While the main business is to produce advertising music such as for TV commercials, he also is an art collector, and he mainly collects modern art works from the 20th century onward, Venetian goblets, etc.
He was particularly fascinated by works that combine the skill of the craftsman and artistic natures, and founded the 2019 BISHOP SHOP as a place to announce the art, goods, and music works that he produces. Actively contributes to music, the DJ culture, and the art scene.