Hikari / GOMA
Limited to 100 pairs with Edition Number
※The actual color may differ slightly depending on the computer or smartphone, but please note that we will not accept returns even in that case.
※Free shipping over 20,000JPY of purchase
pairs remaining
GOMA
---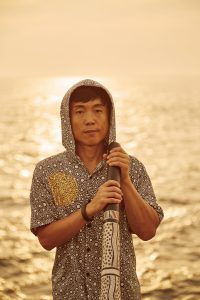 Born in 1973 in Osaka, GOMA is a player of the wind instrument didgeridoo developed by the Indigenous Australian Aborigines and is a painter.
In 1998, Goma became the first non-indigenous person to win the Northern Land Council prize at the Barunga didgeridoo competition held in Australia Arnhem Land. In 2009, Goma was involved in a near-fatal car accident resulting in traumatic cerebral damage and a long recovery process. Suffering from anterior grade amnesia, Goma struggled to form new memories.
Two days after coming out of his coma, Goma suddenly started to work on a series of striking dot paintings. Driven by his flexible ideas of creation and unique sense of color inspired by his primitive impulse, Goma started his career as a painter and to hold art exhibitions all across the country.
In 2011, music activity is reopened through hardship told not to be able to recover.
Movie featuring his comeback "flashback memories 3D" wins audience prize in the Tokyo International Film Festival 2012.
On February 2018, Goma was covered by a special issue of NHK ETV "Reborn", and being diagnosed with acquired savant syndrome by Dr. Darold Treffert, a world authority on research in savant syndrome.
He is now not only active as a musician, but also a painter, and address an audience in a lecture.